From the Charism Coordinator
Hello De Mazenod Family members,
With much excitement and success, we held our Annual Gathering of the De Mazenod Family on 7 August 2021. This is the third such Gathering that has been held, with the first meeting held physically in Fremantle in 2019, with different representatives from the various Oblate ministries across Australia. This year's Gathering was also meant to involve some physical hubs but with the yoyo-ing of COVID restrictions, we met online instead – over 120 participants from the various ministries including Oblate Parishes, Youth Ministry, Oblate schools, Rosies and St Pats, priests and laity. As a team, it was a delight to see so many of you at the Gathering. The sense, even over Zoom, was one of warmth and connection.
The aim of these Gatherings is to annually come together as the one family – to connect, inform, unify and engage with the wider Oblate community across the common foundation of St Eugene's charism.
The theme this year was Being the Most United Family. The program included a welcome from the Provincial, Fr Christian Fini, and a reflection by the Seminary Rector, Fr Andrew Chen, on Being the Most United Family using St Eugene's charism. There was time for sharing and discussion on the reflection, as well as input from participants on what it takes for the De Mazenod Family to meet St Eugene's dream of Being the Most United Family. We even had a surprise visit by the Superior General Louis Lougen.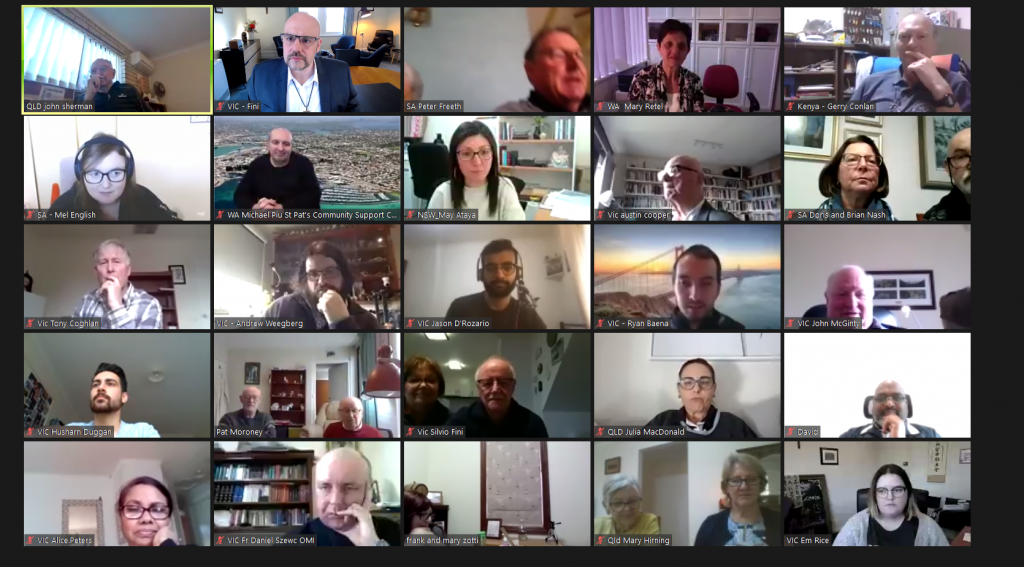 The Vision and Mission Statement for the De Mazenod Family was presented and feedback sought on aspects of the Statement that most resonated with participants.
A summary of projects completed in the last 12 months was also presented along with the context in which these fit into the overall scheme. An overview of the new website and the courses available, was also presented, as well the commencement of a DMF Committee (still looking for members! See more details on this website).
Projects in the last 12 months included:
the online prayer resources and prayer programs held online during COVID;
the courses on St Eugene of varying lengths developed and available on this website;
the Chat newsletter with its activities, updates and reflections on the charism;
this fancy new website you are on, constructed to provide greater connection, and ease of access to the available resources;
an upcoming parish mission and,
involvement in international Lay Association Gathering.
There are many more upcoming events and programs, keep checking in on this website.
God Bless,
Nimmi Candappa